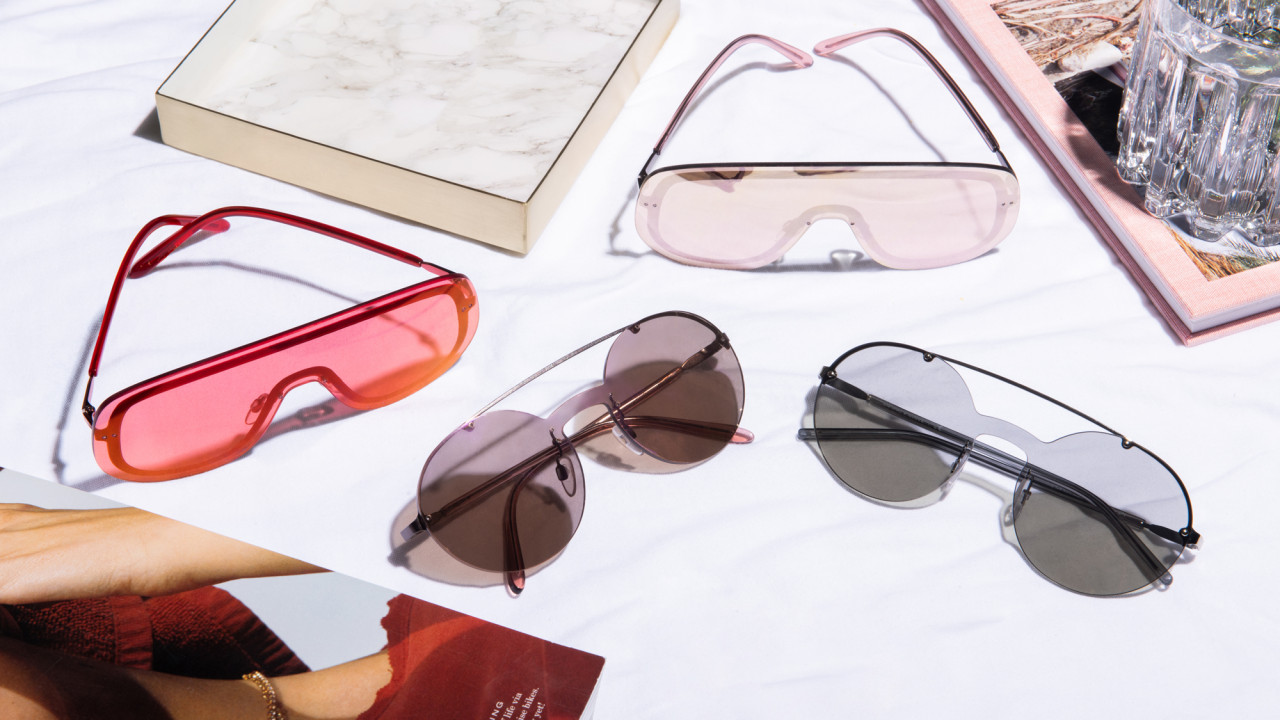 How Eyewear Might Actually Be the Key to Refreshing Your Fall Vibe
Turns out summer's staple breathes new life into your wardrobe come autumn, too. In collaboration with Emporio Armani.
September is famously considered the New Year of fashion, and our shopping strategy reflects that. We're firm believers in the powers of a fall wardrobe refresh: After a handful of months spent in minimal clothing that errs on the side of, well, downright toddler-like (playful sunnies, tie-dye tees, platform sandals, cutoffs, plastic beaded jewelry, anyone?), we're looking forward to and frankly ready for a significant style update. Bring on the trousers, leather, tailored suiting, and jackets—our bodies, minds, souls, and closets are ready (TBD on our credit cards, though). Most pressing, however, is the task of transitioning out our eyewear. Warmer weather calls for a very specific look and feel—and sometimes an entire wardrobe of choices. As we move into fall, the name of the game is streamlining—or settling on a singular pair of shades that goes with anything, everything, and anywhere, pulling together our look. From Emporio Armani, these are the pairs our editors and staffers are looking to to define their vibe this season.
Meagan Wilson
Associate Creative Director
1. Emporio Armani Eyewear: Finding a pair of sunglasses that feels seasonally appropriate for the shift into fall after sticking to one pair all summer can be equally tricky. Enter these Emporio Armani bad boys: I'm obsessed with this rounded shape and mirrored finish, and the steely blue-grey shade means business. It doesn't hurt that they're incredibly flattering and pair well with pretty much any look you throw at them.
2. Victoria Beckham Satin Tote: Here's a highly specific-to-me wardrobe dilemma: I've been searching for a new bag for fall for a minute, don't want to go with yet another neutral, but there's something about most brightly colored bags that feels distinctly summer-y. Enter this satin jewel-toned neon number from Victoria Beckham, which will pop with just about anything and everything.
3. Stand Studios Coat: I don't know about you, but for me, my post-summer shopping usually begins in the outerwear department. This patchwork leather trench from Stand Studios may have elicited an actual gasp: The mix of snake print with pops of color panels makes it neutral enough for everyday, but still statement-y enough to stand out on the street.
Noah Lehava
Director, Lifestyle & Talent
1.Emporio Armani Red Sunglasses: As you can see, my clothing tends to lean classic and neutral. But when it comes to my accessories, that's where I play. Big color, big frame—that's how you pull it all together.
2. Nili Lotan Lodie Leather Straight Leg Pants: It's like clockwork: The moment my sundresses move out of my closet, the leather pants move in. To me, they are even more versatile than denim (don't @ me, OK?). Hear me out. They work with sneakers, heels, flats, and even sandals for those rare, truly transitional days, and you can dress them up with a silk button-down or bodysuit, or down with a tee. I could go on and on. Suffice it to say, these are essential.
3. The Row Abigael Cropped Cashmere Cardigan: Meagan might beeline for outerwear first when the seasons turn, but me, I go straight for sweaters. This season I can't stop thinking about cardigans. Creamy, cashmere cardigans!
Kelsey Grad
Marketing Manager
1. Emporio Armani Rose Gold Sunglasses: Sunglasses aren't just for the summer—statement eyewear is such a fun way to add some flair to a look. This rose gold pair is perfection.
2. Everlane The Texture Cotton Cable Sweater: Fall is the perfect opportunity to update my favorite neutral basics, especially sweaters. I am always on the hunt for chunky knit sweaters to pair with jeans or layer under my leather jacket. This Everlane pick has a relaxed fit and perfect length, and this off-white color will work with so many different looks.
3. Mango Unstructured Wool-Blend Coat: You can't go wrong with a long camel coat for fall to make you instantly look polished and chic. This version is the perfect neutral to pair over midi dresses and skirts, and it's oversized enough to throw on over a sweater for colder nights. The classic style is easy to dress up or down depending on the occasion. Plus, my wallet loves the price.
4. R13 Lace Back Dress: For me, fall is all about layering, and I look for pieces that work on their own or as part of a layered look. I love the versatility and ease of a simple slip dress, perfect to wear on its own for night or to layer over a basic t-shirt for daytime with sneakers. The pattern on this midi-length slip is great for fall and transitional dressing.
5. Heretic Dirty Lemon Eau de Parfum: My look never feels complete without my favorite scent. I love mixing up my fragrances with the new season, and I'm currently loving this natural perfume by Heretic. I picked this up from my favorite clean beauty boutique, and it's irresistible.
1. Emporio Armani Rose Gold Catwalk Sunglasses: Call me crazy, but sometimes I like to plan my outfits around my sunglasses. I would do exactly that with these beautiful babies. From the gold sheen to the lack of a frame, they're not only going to shield my eyes from the sun, they'll also have me stepping into fall looking like a million bucks.
2. Free People My Own Lane Jeans: Denim and I don't particularly get along in the summer, but come fall I have a love affair with jeans. Distressed jeans in particular, which make for some super-cold kneecaps in winter. Shoutout to Free People for understanding my woes.
3. Courrèges Gerbe Turtleneck Top: OK, OK, OK, OK, this top paired with the above Free People jeans and the Emporio Armani sunnies? Perfection with a capital P. Courrèges may have made the most perfect sheer top with this one. Do you see that built-in bra? Risky but classy. I'm here for it.
---