Online Store
Order and Products Issues

Payments

Returns and Refunds

Shipping and Delivery
Online Store
Select a topic below:
Order and Products Issues
Payments
Returns and Refunds
Shipping and Delivery
Shopping for eyewear and eye care necessities at visionexpress.ph is made easy and hassle-free! Just go to www.visionexpress.ph, check out the categories to view all our available products for delivery, add your desired items to cart, fill in your complete details, continue to check out and select your preferred payment method. Easy! Once you have successfully placed your order, you will receive a confirmation email with your order summary.
On the product page of your desired pair of eyeglasses, click on the "Select Lenses" button. Select from Single Vision, Progressive or No Prescription and the list of lenses (with description and additional price) will be shown for you to choose from.
If you have already visited any of our Vision Express stores, just select the branch from the drop down menu so our doctor can pull up your records. You can also opt to upload your prescription by clicking on the "choose file" button. Make sure that the information provided is accurate, correct and complete and that the prescription is not older than one (1) year and is prescribed by an Optometrist.
Once you have uploaded your prescription, click on "proceed", review your selections and add to cart.
If you don't have a prescription from a doctor yet, you may book your appointment at any of our stores nationwide. Schedule your appointment here.
Please choose your first power and click ADD TO CART, then click your second power and click ADD TO CART. Once both your powers are in your cart, click VIEW CART and check that both your graded contact lenses are listed. Then you may proceed to CHECK OUT.
Vision Express is the Home to various global luxury eyewear labels like Ray-Ban, Prada, Armani, Bvlgari, and so on. In addition, we carry the World's Best Lens Innovations from Shamir, Tokai and Opulens – customized and tailored to your everyday, work, or play lifestyle.
Only our Customer Service officers are authorized to edit an order. If your order has not yet been shipped and paid, you can email us at hello@visionexpress.ph and provide the ff. information:
Name
Order #
Date of Purchase
Item to change/remove
For prescription glasses, there may be cost implications on the lenses if the order has already been prepared by our doctors. Contact us immediately and we'll try to accommodate your request as much as possible.
We would like to hear from you! Please email us at hello@visionexpress.ph and provide the ff. information:
Complete Name
Email Address
Mobile Number
Order #
Payment Method
Reason for cancellation
Our top priority is to provide our customers with the most convenient online shopping experience with a variety of payment options: Cash on delivery, debit cards, credit cards, Gcash, and even installment plans using Tendopay.
First, you need to create an account with Tendopay and once you've successfully signed up for one, you can browse through our website, add to cart and select "Installment" as payment option. Login to your Tendopay account and check out.
If you have received products which you did not order or a damaged/defective product please do not remove any tag or take out the product from the original packaging. We would recommend you to call our Customer Service team at +63 917 833 1378 and let the representative know the details of your package.
Our Customer Service team would also require you to provide visual evidence (e.g photo, video) of the products in order to expedite the process.
Products valid for returns, refunds, or exchanges are only those received with defect or damage.
Products that are defective, damaged, or expired can be refunded, returned, or exchanged within 30 days upon receipt of your order. Outside this timeline, the product could have already been exposed to factors beyond our control which could have contributed to the damage/defect.
Eyewear and accessories must be unused and in their original purchase condition – complete with packaging and tags attached. Contact lenses must have the original packaging and, box unopened and sealed.
If you received a damaged or defective item, please email us at hello@visionexpress.ph with a photo of the item and your delivery receipt so our team can help you out.
Returned products are inspected by our Quality Assurance Department. If there is any damage to the product as a result of a manufacturing defect or deviation from factory specifications, we undertake to fully refund the cost of any defective products.
You can return your online order within 30 days of receiving your order. Please follow the following steps:
Provide our Customer Service team your order details and reason for returns.
Schedule your return through a courier or proceed to the nearest post office to post back your returns.
Take note of the tracking number stated on the shipping label provided by the postal service as reference.
Your refund will be processed as soon as the product you have returned is inspected by our Quality Assurance Team and is confirmed that it fits within our returns policy. This quality check can take up to 10 business days, though generally less.
Once the return has been approved by the Quality Assurance Team, it would take 10-20 days for the refund to be made to your payment services provider (for example your credit card supplier). Please note that the time taken for a payment services provider to provide you with your refund can vary depending upon the provider. Generally, there will be a longer processing time for refunds if you made payment via Cash on Delivery.
If you made payments via Cash on Delivery, a secured refund form will be sent to you by our customer service agents where bank details are needed. It is important to ensure full and accurate bank account details (exact account name, bank name, and account number) will be provided to avoid any unnecessary delays due to incorrect information. If you do not have a bank account, we will not be able to process a direct refund. You will receive a voucher of the refund value for your next online purchase instead, terms and conditions apply.
For further information and especially if you do not receive your refund within 30 business days, please feel free to call our on customer service team at +63 917 841 4644 and let the advisor know the details of your order and about your open question.
Before we can start processing your refund/replacement, we need to make sure that your returned products meet our return conditions.
We will refund full purchase price of the relevant product(s) returned to us excluding shipping charges (if any). We may refund shipping costs only for some return cases, example – Vision Express delivered the wrong item, item damage due to production process.
100% satisfaction guaranteed. That's our promise. If the item is not damaged but you're not completely happy within the first 30 days, just let us know. We'll do whatever it takes to make it right. We can replace it with an item with the same or higher price (additional cost may incur for the shipping fee and if the item chosen is at a higher price).
At Vision Express, we do our best to ensure that your optical essentials are delivered promptly.
Your vision and your business is important to us. With our partner third-party services, and expert back-end professional staff, we can provide you not only with high quality contact lenses and solutions, but also with prompt processing times. By cutting out the middle man, we can deliver your item to you in the shortest time span possible -- NATIONWIDE ALL OVER THE PHILIPPINES.
Metro Manila: PHP 60.00
Luzon / Visayas: PHP 100.00
Mindanao: PHP 150.00
Same day delivery (within Metro Manila only): PHP 250.00
Metro Manila: 1-3 business days
Luzon: 3-5 business days
Visayas / Mindanao: 5-10 business days
Pre-order / Prescription Glasses (nationwide): 10-15 business days
Once your order is placed, you will receive and email confirmation stating the following details above. In addition, once the item is dispatched to our third party courier, you will receive an email and text with a tracking number and URL showing that your item in on the way. Our third party courier will send a following text message on the same day your item will be deliver for advanced notice to arrival to your home. Your are notified every step of the way with Vision Express.
If your deliver was incomplete or we have questions about your order, you can contact us at hello@visionexpress.ph. We will reply as swiftly as possible to address your issue. We are working with our delivery provider to fulfill our orders and due to high demand in deliveries nationwide, we added a buffer of 1 day to allow any circumstances. We appreciate your patience.
Please contact us immediately at hello@visionexpress.ph before we dispatch your order if you need to change anything on your contact information. Don't forget to double check your information before checking out.
PHYSICAL STORES
Order and Products Issues

Warranty

Store Locations
PHYSICAL STORES
Select a topic below:
Order and Products Issues
Warranty
Store Locations
For confirmation on readiness of your eye wear, we suggest to call our store prior. Complete store contact details can be viewed at the branch locator page.
We have wide range of frames you may choose from. As for lenses, options and actual price will be given to you by the doctor upon assessment as it depend on the need of your eyes. To give you an idea, please see some lens price points below.
We have Opulens for Single Vision wearers. Please see below price reference:
1.5 Hard Multi-Coated - Php 1,290
1.6 Aspheric Hard Multi-Coated - Php 1,990
1.6 Blue Coat - Php 2,490
1.6 Lutina Aspheric - Php 3,990
We also have Tokai (World's thinnest lens). Please see below price reference:
1.76 Tokai (World's thinnest lens) - Php 8,990 (price may vary beyond sphere of -10.0)
Shamir Lenses
Progressive Lenses - from Php 9,990 to Php 65,990 (1.50 to 1.74 index)
Single Vision Lenses - from Php 6,990 to Php 42,990 (1.50 to 1.74 index)
You may also want to take advantage of our exciting Buy 1 Get 1 promo - 2 pairs of frames and lenses for the price of 1 for as low as Php 2,990.
Products that are defective, damaged, or expired can be refunded, returned, or exchanged within 30 days upon purchase.
Other benefits that you can enjoy for 1 year upon purchasing your eyewear:
Free replacement of nose pads & screws
Free custom fitting and adjustment
Free ultrasonic cleaning services
We suggest that you visit any of our stores nationwide so the doctor and lab technician may assess if it's repairable. To see our list of stores, please visit our branch locator page.
We do not have Ray-Ban spare parts in Vision Express. You may head down to any of our store branches and have your sunglasses assess by the doctor and lab technician. We have generic screws and spare parts; although, we cannot guarantee that it would fit your eyewear. To see our list of stores, please visit our branch locator page.
CUSTOMER SERVICE
CUSTOMER CARE
Our customer service is available during office hours (Monday to Friday 8:00am to 4:30pm.) Our advisors will be happy to assist you.
From prescription and product inquiries, we are here to help you find exactly what you need. You may call our Customer Service team at +63 917 841 4644 or email hello@visionexpress.ph.
You can also chat with our advisors through Facebook Messenger. CHAT NOW
EYE EXAM
In-Store Eye Exam

Virtual Consultation
EYE EXAM
Select a topic below:
In-Store Eye Exam
Virtual Consultation
You can book your FREE and advanced eye exam here. Select your preferred location under "In-Store Eye Exam".
It is absolutely free. Our mission is Vision and we aim to provide every single Filipino with FREE eye check-up. We will accommodate as many as we can on a daily basis in all our stores nationwide - while following safety protocols. Book your customized and advanced eye exam here.
Aside from the state-of-the-art vision technology, our digital eye exam gives you the most advanced and precise eye care experience. It provides a digital fingerprint of your eye and measures optical characteristics, pinpointing even the smallest changes that can occur over time.
Experience an eye care journey like never before with quality service, advanced digital eye exams, stylish frames, and a wide range of vision solutions for all ages. Schedule your customized and advanced eye exam here.
Our advanced and customized eye exam in stores usually take 30 minutes.
You can book your FREE virtual consultation here. Select your preferred location under "Virtual Eye Exam".
It usually takes 15 minutes per call.
HOW-TO GUIDES
Buy Glasses Online

Glasses for Your Face Shape

Measure Your PD

Types of lenses

Read your Prescription

Adjust Your Frame

Get Used to Progressive Lenses
HOW-TO GUIDES
Select a topic below:
Buy Glasses Online
Glasses for Your Face Shape
Measure Your PD
Types of lenses
Read your Prescription
Adjust Your Frame
Get Used to Progressive Lenses
Buying glasses online at
VisionExpress.ph
 is an easy, hassle-free experience, and the benefits are huge. When you buy glasses online, you can choose from thousands of styles, you'll save hundreds of dollars on high-quality glasses and sunglasses and you'll get them right at your doorstep. It's very common for first-time customers to ask themselves 'How do I buy glasses online?'. This article will give you the big picture of how your initial journey will be. Follow these few simple steps and you'll become an expert shopper the first time around:
The first step to take when you order glasses online is choosing the frame. If you already know which frame you're going to get, s
imply visit VisionExpress.ph and
type the frame name in the search bar. But what if you're feeling like window shopping for your next pair? If you have an open mind and want to indulge in going over our variety of frames, it's worth considering the following:
Shape:

 

Whether its rectangular, aviator, round or cat-eye, choose something to compliment your style and features.

Size:

 

Unless you're going for oversized frames or something super snug for fashion reasons, it's always recommended to choose a frame that will fit you well. If you have an old, comfortable pair, look at the measurements on the temple arm as guidelines.

Tip:

 

How to buy glasses online that fit? If you're not sure what works for you, use the Virtual Mirror to try on frames until you find the perfect one. Our Virtual Mirror will ask you to upload your picture so we can show you online how any frame you choose will look on your face.

Color:

 

This comes down to your personal taste. Most frames have several color options, so you're never "stuck" with just one choice.

Brands & Trends:

 

Whatever your budget is, buying

 

Ray-Ban glasses online

 

always costs less at

VisionExpress.ph

than at a brick-and-mortar store. We cut out the middle-man to offer you a huge variety of designer brands at prices you'll love. The same goes for other designer brands like Oakley, Persol or the latest Muse x Hilary Duff collection. If designer names are what you're looking for, we're definitely the place for you.
As for eyewear trends, they come & go with the seasons, but you can always
check out what's trending right now
so your look is always up to date with the current fashion fad.
If the frame choice has a lot to do with stylish preferences, lenses are the more functional aspect of your new glasses. In short, what do you need them for?
Prescription or Non-Prescription:
The choice here is pretty simple, whether you're shopping for eyeglasses or sunglasses you have to choose: buying prescription glasses online or getting non-prescription (also called plano).
What do you need your glasses for? Reading (Near-Vision lenses), driving (Single-Vision lenses) or both (Progressives or Bifocals). Before moving on, you'll provide your prescription, either by filling it out online, uploading it or sending it later via email.
Here functionality and purpose come into play. For eyeglasses, you can add protective coatings like anti-scratch, UV protection or Digital Block for long hours in front of digital devices. Digital Block glasses, for example, are also recommended for use 1.5 hours before going to sleep to help your eyes relax before night-time. Sunglasses have additional options such as mirrored and polarized lenses for enhanced vision and an extra layer of cool
After deciding on lenses, the only thing remaining is completing your order and voilà, you're done. Your new glasses will arrive at your doorstep in no time. We also notify you about your order every step of the way via email: You'll know when your glasses are in production, when they are shipped, etc. We hope this guide answers all your questions on how to order glasses online, there's a first time for everything! And rest assured that all your orders at visionexpress.ph include free shipping & returns plus a 100% money back guarantee, making buying glasses online with us completely Risk-Free.
Have you ever wondered how to buy glasses online that compliment your face shape? When shopping online for a new pair of glasses you want to find a frame that compliments your features. Today, you can easily shop for glasses online choosing from 1000's of styles and at more affordable prices than at a brick-and-mortar store.
To make the right choice when you have a huge variety of styles to choose from, it's good to know three things: What's your face shape, what styles work with this shape and maybe more importantly, what styles are big no-no's.
What is Your Face Shape?
Oval Face Shape:
People with oval faces are in luck - pretty much any frame style will suit them. With a jawline that's slightly narrower than the forehead, complemented by high, angled cheekbones. This face shape is proportional and versatile when it comes to picking glasses, but we do recommend rectangular or cat-eye frames to truly shine.
Square Face Shape:
With a square face that usually has a broad forehead and strong jawline, you want to choose frames that soften the features and elongate the face shape. The best way to do that? You won't go wrong with round or oval frames, while you should try and avoid angular and rectangular styles.
Heart-Shaped Face:
The heart-shaped face usually means a broad forehead and wide cheekbones that narrow down to a small chin. A lot of styles, especially oval & cat-eye with a wide nose bridge work well here; rimless glasses and heart-shaped faces are a match made in heaven. Try to avoid aviators and dominant browlines.
Round Face Shape:
Round faces are relatively short, have (surprise surprise) a rounded chin, full cheeks and a wide forehead. Sharper angles are needed to compliment this face shape. We recommend rectangular and square frames, the narrower the better, to help elongate the face and add a complimenting contrast. Stay away from rounder or oversized styles.
Oblong Face Shape:
Oblong faces are longer than they are wide, and have long, straight and relatively thin cheek lines. As with other face shapes, the way to compliment an oblong face is by contrasting its features. Wide aviators or square frames will do just that. Look to avoid narrow, rectangular frames that make your face seem even longer.
Diamond-Shaped Face:
The diamond face shape is narrow at the jaw and eyeline, complemented by high & broad cheekbones. The best styles to offset these features have prominent browlines. Semi-rimless frames and curvy cat-eyes are recommended. Try avoiding narrow frames that draw too much attention to the narrow eyeline.
We hope this article helps you find your start line when shopping for your next pair of glasses online. But don't forget - You look best in what makes you feel best. Don't be afraid to go bold and break these rules. Trend-setters have done that for hundreds of years and you could be the next!
WHAT IS PD?
A personalized fit starts with measuring your pupillary distance-that's the space between the centers of each of your pupils. It's measured in millimeters and tells the lens maker where to put the optical center on each lens. You can ask your eye doctor to include your PD measurement on your prescription, or if you don't have it, here's how you can measure it yourself.
STEP 1: 

Put on glasses. Have a felt tip marker handy!
STEP 2: 

Focus on an object at least 20 feet away.
STEP 3: 

Mark on your right lens directly over the object.
STEP 4: 

Mark over the object on your left lens.
STEP 5: 

With both eyes, make sure the markings overlap into a single dot.
STEP 6: 

Measure the distance between the two dots with a millimeter ruler.
NOTE: If measuring for near-sighted glasses, focus on a close object like reading material or computer screen.
NO GLASSES
HANDY
Don't have a pair of glasses handy? You can still measure your pupillary distance using a mirror, a small ruler marked in millimeters, a pencil & paper.
STEP 1: Stand about 8" away from a well-lit mirror. Grab your small ruler in one hand. Have your pencil and paper handy. Look straight ahead into the mirror and position the ruler over the bridge of your nose.
STEP 2: 
Starting with the right eye, line up the zero end of the ruler at your pupil; measure the distance from your right to your left pupil. The millimeter number that lines up with your left pupil is the measurement you want. That number is your PD. Jot it down. Just to be sure, measure a few more times to make sure you get the same number. You want it to be accurate.
GETTING A FRIEND TO HELP
 A friend, a small ruler marked in millimeters, a pencil & paper.
STEP 1: Face your friend and look straight ahead with both eyes open.

STEP 2: Have your friend hold the ruler up to your right so the zero end lines up with your pupil. Measure the distance from your right to your left pupil. The number that lines up with your left pupil is your PD. Jot it down. Try it a couple times to make sure your measurement is accurate.
STEP 3: 
Have your friend repeat the process on your left eye by measuring the distance from your left pupil to your right. Use the number that lines up with your right pupil. That's your PD. Jot it down. Do a couple tries to make sure the measurement is right.

Once you've got your PD measurement, fill in the numbers in your cart and you're good to go.
Single-vision
Single vision type lenses are one of the most common in vision correction. It means the lenses are correcting for one field of vision—nearsightedness, farsightedness and astigmatisms. The entire lens contains the same amount of vision correction.
Progressives
Progressive lenses provide uninterrupted vision from distance to near without any visible lines between the zones. Progressive lenses' seamless transition from distance correction on top to reading correction on bottom provide much sharper overall vision.
Bifocal
Bifocal lenses have two (2) distinct powers which are divided by a distinct line to separate.
Trying to read a prescription for glasses isn't the easiest thing in the world, so we whipped up this guide to help you understand better what do the numbers in your eyeglasses prescription mean.
1. 

Reading Your Eyeglasses Prescription
While there might be some minor variations between different eye prescription forms, the generic doctor's RX note will probably look very much like this :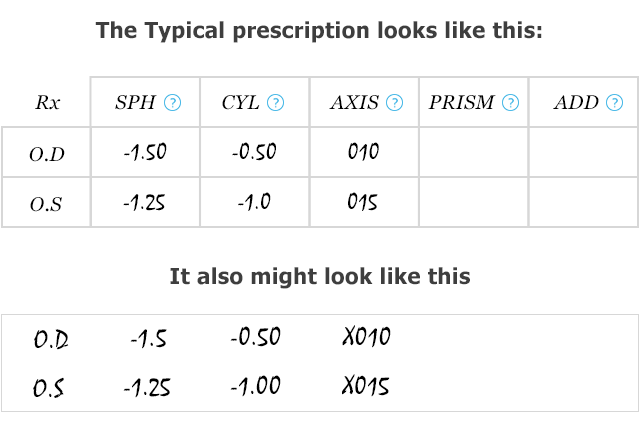 The key to reading your eyeglasses prescription, whether you have nearsightedness, farsightedness, astigmatism or anything else, is knowing what OD and OS stand for...
Sometimes appearing as O.D. and O.S. (oculus dexter and oculus sinister), which are abbreviations in Latin for right eye (OD) and left eye (OS). Some doctors may use O.U. which means both eyes, or RE and LE for right eye and left eye respectively.
There are other abbreviations in your eye prescription. Here is what each of them means:
Sphere (SPH):

 

Measured in diopters, the number under this header refers to the lens power necessary for each eye. A minus (-) is used to correct nearsightedness. A plus (+) sign next to the number refers to farsightedness correction.
Cylinder (CYL):

 

The lens power (also diopters) used to correct astigmatism. If you have no astigmatism or very slight one, nothing will appear under this column. Just like with Sphere, minus is used to indicate lens power for nearsighted astigmatism, plus is for farsighted astigmatism.
Axis (Ax):

 

Like Cylinder, this only applies to astigmatism prescriptions. The numbers under this column refer to angle degrees (1 to 180) and not diopters. If your prescription includes Cylinder lens power, it must include Axis as well.
Add:

 

Only used for multifocal (progressive/bifocal) lenses. It refers to the added magnifying power applied to the bottom of the lens in multifocal lenses.

 

PAL

 

is used in some cases by eye doctors when the addition for progressive lenses is different compared to bifocals.
Prism:

 

Prism is used to correct double vision or vision displacement. The value on the prescription refers to the number of diopters applied in order to compensate for the image alignment issues.
The glasses you ordered online just arrived. You open the box, put them on and… they're not sitting on your face as perfectly as you imagined. No need to worry! With our useful tips on how to adjust glasses at home, they'll be sitting nice and snug on your face in no time!
How Can I Adjust My Glasses At Home?
It might feel weird at first to wear progressives. Still, you should stick to them for all your glasses-needy occasions until you get the hang of it. The more you wear them, the easier the transition will be.
Here are the most useful tried and true tips on how to fix your glasses, whether it's a pair of smart readers or stylish sunglasses. Remember - minor adjustments usually go a long way.
The first thing to do when your new glasses arrive? Put them on and go look in the mirror. If they look and feel good, you're all set. If not, it's adjusting time!
Tip #1: How to Straighten My Glasses
The secret to adjusting crooked glasses is all in the temple arms.
If your glasses are straight when you place on the table, but crooked when you wear them: Straighten your glasses by adjusting the temple arms. Take either side and gently raise or lower it.
If your glasses are crooked when placing them on the table:To straighten your glasses, gently bend the temple arm in the opposite direction.
Tip #2: How to Adjust the Width of Plastic Frames
To fix this glasses issue, heat up the bridge piece (for example: use a hairdryer) for about 15 seconds, and then adjust slowly.
Don't heat them for too long or you'll end up damaging any special coating you might have on your lenses. Let the glasses cool off before putting them on.
Tip #3: How to Adjust the Width of Metal Frames
To fix metal frame glasses, don't use heat. Simply bend gently, and check after each adjustment how the glasses look and feel.
Tip #4: How to Fix Glasses with Adjustable Nose Pads
If the glasses are sitting too high: Widen the nose pads gently. If the glasses are sitting too low: Narrow them gently.
Whatever the case is, make sure the pads are even on both sides.
Tip #5: How to Stop Glasses from Slipping down My Nose
Simply take the stem tip and bend it inwards so that the temple arms hug your head.
Follow these tips whenever you run into a minor fitting snag and you'll most likely solve it by yourself. Remember, make small adjustments from time to time. It will keep your glasses fitting perfectly and looking great.
Now that you know how to handle minor adjustments, it's time to get a new pair of glasses! Discover 1000s of styles for men, women and kids, available with all prescription types.
Try any frame with the Virtual Mirror to find the perfect one. Basic RX lenses are free with every frame. Shipping & Returns are free too, no minimum required!
From a certain age (somewhere between late 30s to early 40s), your vision naturally declines, especially when it comes to seeing things up close. For most glasses wearers, that comes in addition to imperfect eyesight when looking at a distance.
You can get 2 pairs of glasses, each for a different issue, but switching between them can be a pain. A more ideal solution would be the all-in-one kind, aka progressive lenses.
This type of lens provides clear and corrected vision for reading, distance and everything in between, with a smooth transition between all fields of vision. However, it might take a long time getting used to, because it requires looking through different parts of the lens for each field of vision.
Here are some tricks and tips to make your adjustment period as smooth as possible.
1. 

Wear Your New Glasses, Not the Old Ones
It might feel weird at first to wear progressives. Still, you should stick to them for all your glasses-needy occasions until you get the hang of it. The more you wear them, the easier the transition will be.
A neat way to get the hang of it. Start by looking and focusing on an object at a distance (across the room for example), and slowly lower your eyes to the midsection of the lenses, focusing on something else. Then, take a book and start reading it using the bottom part of the lens.
3. 

Move Your Head, Not Just Your Eyes
When getting accustomed to your new glasses, try moving your head and not just your eyes. Do it up and down and then side-to-side as you look through different fields of vision.
4. 

How to Walk up the Stairs with Progressive
It's quite common to feel like your eyes are playing tricks on you when walking up a flight of stairs for the first time with progressive lenses. As mentioned above, move your head and not just your eyes to look down, which will enable you to keep everything in focus.
During your first week of wearing new glasses with progressive lenses, use them while driving only if you're already comfortable.
For first timers with multifocals and progressive lenses, there might be some super subtle side effects such as very slight dizziness. It's completely normal, and will pass quickly. And now that you know what's in store for first-time wearers of progressive lenses, it's time to get yourself a pair of multifocals. Vision Express offers 1000s of styles to pair up with high-quality progressive lenses for any prescription at affordable prices. Check out the collection. There's probably a sale on multifocals you can take advantage of right now.
PROMO MECHANICS
BOGO promo
PROMO MECHANICS
Buy One Get One is deactivated on discounted collections and during sitewide sale.
Buy One Get One (BOGO) is automatically applied at checkout.
Eligible frames added to cart must have different prices. Always pay for the higher price.
The FREE lens of the 2nd pair cannot have different grade from the 1st pair.
Should you need different grade for the 2nd eyewear, customer will have to upgrade and purchase the lenses.
Promotion is not in conjunction to any existing store or online promotion (unless specified).
BOGO promotion cannot be availed in conjunction with the single item purchase discount.
All eyeglasses with "Buy 1 Get 1" label on the photo are elible for a FREE 2nd eyewear with FREE clear lens. As well as sunglasses with "Buy 1 Get 1" label gets a FREE pair of computer glasses.
STEP 1: Choose your desired branded eyewear to purchase from the website.
STEP 2: Select your FREE Anti-Reflective lens or upgrade your lens (price is indicated upon upgrade).
STEP 3: Upload your prescription from your optometrist or select your branch if you're an existing Vision Express customer so we can pull up your records. Click "Add to Cart".
STEP 4: Based on the first chosen eyewear, a collection of items that are eligible to be "FREE" will appear on the next page. Choose your FREE eyewear from this selection.
STEP 5: Repeat Step #2 and #3.
STEP 6: BOGO promotion will automatically apply upon checkout.
Back to Top